Protect your network with Zscaler's industry-leading Security-as-a Service solution
With the growth of cloud adoption and decentralisation of networks, enterprises' requirements for cybersecurity solutions are changing.
To keep up with digital transformation programmes, businesses need a security solution capable of delivering secure access to users, regardless of their location or access type.
More and more are turning to next-generation, cloud-based security solutions, capable of delivering secure access closer to the user at the network edge to minimise latency and optimise agility.
Your complete network and security solution
We have partnered with Zscaler to bundle their security solution as an optional add-on on to our network services, including Colt IP Access, IP VPN and our award-winning SD WAN solution. We are directly peered with Zscaler Cloud in various locations globally, taking traffic directly to Zscaler for reduced latency and a consistent and improved user and application experience.
Best-in-breed cloud-based security
Zscaler is a market-leading security-as-a-service provider, operating the world's largest cloud security platform, protecting thousands of enterprises and government agencies from cyberattacks and data loss.
By sending the network traffic towards a globally distributed Zscaler cloud, it offers a secure gateway for Internet, private or public cloud. Zscaler services are fully cloud-delivered and offer the simplicity, enhanced security, and improved user experience that traditional appliances are unable to match.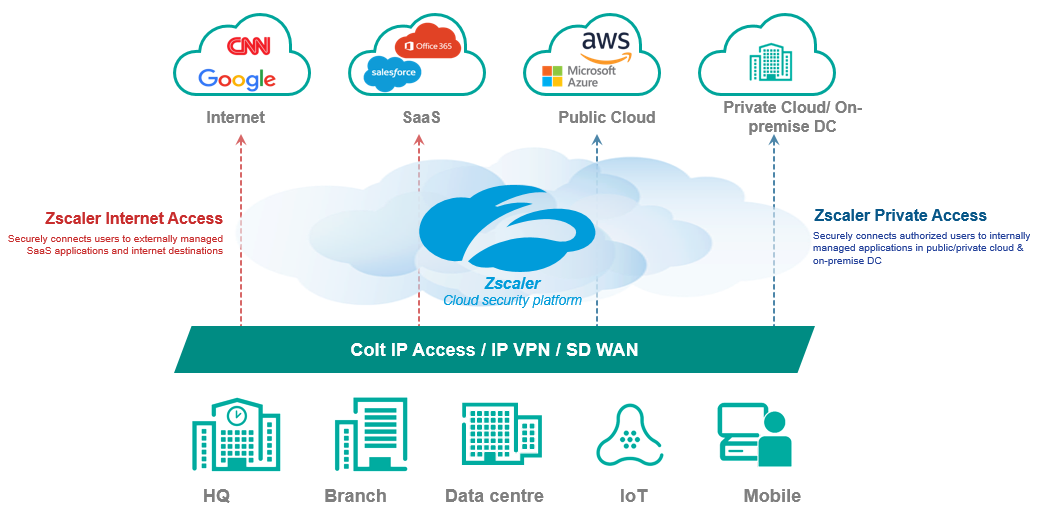 Call a specialist
+44 (0) 20 7863 5510
Monday to Friday 9am - 5pm